Weekend With a Breeder
We are offering a weekend seminar in horse breeding titled Weekend With a Breeder. We will go through everything concerning horse breeding, breeding scale (practical work), and ways to get results in horse breeding.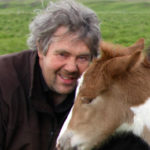 The instructor is Sigbjörn Björnsson, horse breeder at Lundar and FEIF breeding judge. The number of participants is limited to 3 groups of 2–3 persons. Ideal for couples or small groups. Accommodation and food included.
Current dates available are October 12–14, October 26–28, and all weekends in November (Friday through Sunday).
Accommodation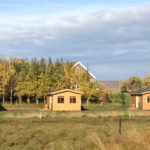 Each of our cabins sleeps up to 4 people. There is a bedroom with a twin size bed, and a couch in the living room which converts into a sofa bed for 2 people. The cabins are reserved for the course dates, so there will only be 2 persons per cabin, but accommodations can be made, e.g. for people with children or larger groups which want to stay together.
The cabins are equipped with the essentials (bedding, linens, towels), along with a small kitchen with fridge, microwave, and cooking basics (salt, pepper, oil). The bathroom is roomy and includes a shower and hairdryer.
We provide basic breakfast (cereals, yogurt, skyr, bread and toppings), but let us know if you have any special requirements.
The Course
The course outline is as follows:
Friday night
Guests arrive for dinner and light chat at the main house with Sigbjörn.
Saturday
Course will run throughout the day in the stables, starting at 9 AM. Lunch will be soup and bread. Complimentary dinner will be at a nearby local restaurant.
Sunday
The course will finish in the late afternoon, after which guests can enjoy another night in the cabins, or move on with their trip.
Bookings and Further Information
For further information and bookings you can contact us on lundar@lundar.is or on our Facebook page. Payments can be made via bank transfer, cash on arrival, or credit card. Price per person is €450.
Terms & Conditions
Minimum participation of 4 persons is required for a course to be held. If minimimum participation is not achieved two weeks before the course date, the course that weekend will be cancelled, and guests will have the option to move their booking or get a full refund. Participants are responsible for their own transportation to and from the farm.