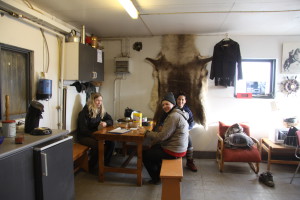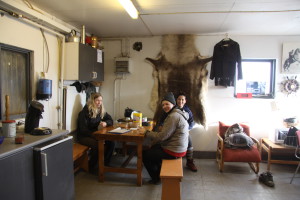 Það er líf og fjör í hesthúsinu núna eftir frekar rólega byrjun. Í byrjun október voru þriggja vetra tryppin tekin inn og Sigbjörn var nánast einn við frumtamningar. Þrjár hryssur og einn geldingur undan Abraham, ein hryssa undan Asa og Orradóttir undan Auðnu. Í stuttu máli hefur allt gengið vel, Abrahamsafkvæmi lofa góðu. Þau eru næm en yfirveguð, skrefmikil og allur gangur laflaus. Asadóttirin er undan Lind frá Eiðisvatni. Hún er mjög stór og þroskamikil, skrefmikil en þarf tíma til að ná jafnvægi. Orradóttirin er enn að þroskast mikið og býður af sér mjög góðan þokka. Gæðingsefni.
Í byrjun janúar kom til okkar hún Emilie frá Danmörku. Hún er harðdugleg og áhugasöm og verður hjá okkur fram á sumar. Lea frá Þýskalandi sem var hjá okkur í tæpt ár í fyrra er í mánaðarfríi frá háskólanum sínum og eyðir því hér við þjálfun. Frábært að fá hana. Svo er hún Marine frá Frakklandi sem verður hér í tvær vikur á vegum skólans síns. Hún stefnir á að verða reiðkennari og er að kynnast íslenskum hestum í fyrsta sinn. Það gengur svo ljómandi vel og hún fékk líka það verkefni að frumtemja einn á þriðja vetri. Hann slasaðist á fæti í vetur og þurfti að koma inn í meðhöndlun. Er orðinn óhaltur og því þótti tilvalið að leyfa Marine að spreyta sig enda er hann stór og myndarlegur undan öðlingnum Þristi frá Feti. Hún settist á bak honum á fjórða degi.
//////
It's very lively in the stables now after a quiet start. At the start of October the three years olds were taken in and Sigbjorn was almost completely alone during startup taming. Three mares and one gelding from Abraham, one mare from Asi and daughter of Orri and Auðna. In short, everything has been going very well, offspring of Abraham are promising. They are sensitive but calm, wide steps and all gaits loose. The daughter of Asi is from Lind from Eiðisvatn. She is very large and mature, wide steps but needs time to gain balance. The daughter of Orri is still maturing a lot and has fine grace. Gæðingur material.
At the start of January Emilie from Denmark joined us. She is very hard working and enthusiastic and will stay with us until the summer. Lea from Germany, who was with us for close to a year last year, is on a month long holiday from university and is spending it here training. Great to have her. Then there is Marine from France who will stay here for two weeks as part of her education. Her goal is to become a riding instructor and is getting to know Icelandic horses for the first time. It is going very well and she got the project to startup a three year old. He was injured on a leg this winter and had to come in for treatment. He isn't limping any more and so we considered him good for Marine to test her skills, as he is big and well developed from the gentle Þristur from Feti. She was riding him on the fourth day.