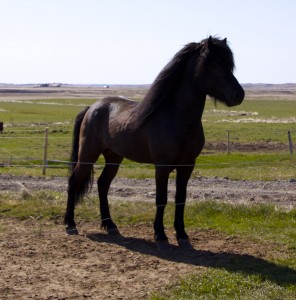 Abraham er kominn heim og hefur verið ákveðið að hann fari ekki í dóm þetta árið. Hann hefur þó skipast vel, þroskast skemmtilega í útliti og líkist eldri bræðrum sínum. Hann er orðinn þéttur á tölti, örviljugur og næmur en ekki alveg lentur á brokki og skeiði ennþá.
Hann getur tekið á móti hryssum heima á Lundum í byrjun júní. Verðið er 45 þús með öllu.
//////
Abraham is home and it has been decided that he isn't going to be judged this year. He has proven well though, his looks have matured and he looks like his older brothers. He has a solid tolt, good spirit and sensitivity, but not completely capable of trot and pace yet.
He will receive mares at Lundar at the start of June. The price is ISK 45,000 including taxes.