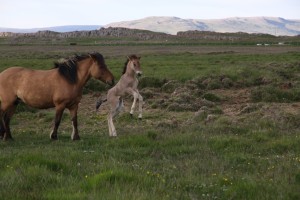 Þá er góðu landsmóti í Reykjavík lokið. Asi var óheppinn í forkeppni í B flokki og komst ekki í milliriðil, munaði þó aðeins þremur kommum.Ekkert breyttist hjá Al á yfirlitssýningunni og hann endaði í níunda sæti, sem er einu sæti ofar en þrír bræður hans hafa hlotið á landsmóti. Við, sem héldum að við værum í áskrift að tíunda sætinu 😉
Næst verður stefnan tekin á Vindheimamela þar sem þeir keppa á Íslandsmóti í hestaíþróttum. Að því loknu munu þeir sinna hryssum. Alur verður á Stóra Kroppi í Reykholtsdal og Asi líklega heima á Lundum.
Auður sinnir hryssum í Kýrholti í Skagafirði en Abraham er hér heima og alltaf tilbúinn að taka á móti hryssum.
Alexander er kominn austur á Hérað í umsjá Jósefs Valgarðs á Víðivöllum fremri.
Á myndinni er lífsglöð Asadóttir með móður sinni, Bliku frá Bakkakoti.
//////
A good landsmót in Reykjavík is over. Asi was unlucky in the first round and did not get to the middle round. The difference was only three points. Nothing changed in the second judgement with Alur and he ended in 9th place which is one place higher than his three brothers. And we thought that we had a subscription for the tenth place 😉
The next task is Icelandic championship in Skagafjörður. After that they both will serve mares. Alur will be in Stóri Kroppur and Asi probably here at Lundar. Auður is in Skagafjörður and Abraham here at home, and he is always eager to have more mares. Alexander is in the East.
The picture shows a joyful daughter of Asi.