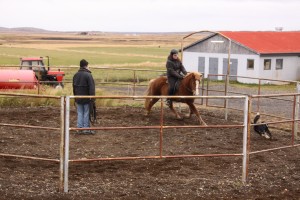 Um miðjan september hófust tamningar á bænum. Þá kom hún Lilja Ósk Alexandersdóttir til starfa .
Allt fer vel af stað. Það var byrjað á fimm þriggja vetra hryssum, tvær eru undan Bjarma, ein undan Kvisti frá Skagaströnd, ein undan Hrannari frá Þorlákshöfn og ein undan Geisla okkar. Að auki nokkur fjögurra og fimm vetra hross undan Al, Leiftra og Bjarma. Á myndinni er Lilja á efnilegri Bjarmadóttur.
//////
Around mid-september training began on the farm. That's when Lilja Ósk Alexandersdottir started working.
All went well. We started with five three year old mares, two of them from Bjarmi, one from Kvistur from Skagastrond, one from Hrannar from Thorlakshofn, and one from our Geisli. Also a few four and five year old horses from Alur, Leiftri, and Bjarmi. Pictured is Lilja on a promsing daughter of Bjarmi.