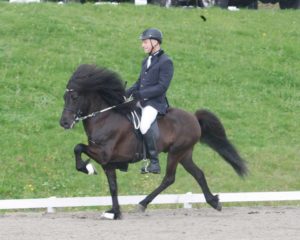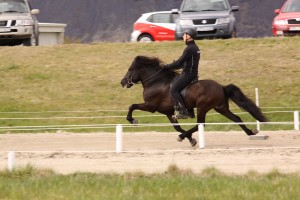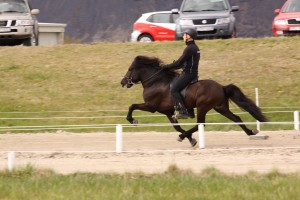 Nú er kynbótadómum lokið þetta vorið svo og úrtökum fyrir Fjórðungsmót og Heimsmeistaramót.Einn stóðhestur var sýndur í kynbótadómi frá okkur, Abraham sonur Auðnu og Vilmundar frá Feti. Hann hlaut 8.43 fyrir byggingu og 8.08 fyrir hæfileika, 8.22 út. M.a. fékk hann 9 fyrir bak og lend og 9.5 fyrir hófa, 8 fyrir tölt, 8.5 fyrir skeið, vilja og geðslag og fegurð í reið. Það mun fljótlega koma í ljós hvar hann verður í girðingu í sumar.
Ákveðið var að fara ekki með Alexander í dóm í vor. Hann er 4 vetra undan Auðnu og Kvisti frá Skagaströnd. Hann er með góð gangskil og góða stefnu, og margt bendir til að hann verði ekki sístur af bræðrunum. Hann er hér heima í hryssum.
Jakob og Alur tóku þátt í sportinu. Þeir sigruðu slaktaumatöltið og urðu þriðju í fimmgangi á Reykjavíkurmeistaramótinu. Á íþróttamóti Sörla sigruðu þeir báðar greinar, með 7.90 í fimmgangi og 8.54 í slaktaumatölti. Síðan kræktu þeir sér í farmiða til Berlínar í úrtöku fyrir HM og sigruðu svo Gullmótið með glæsibrag.
Auður er í túninu heima og sinnir hryssum. Enn er hægt að bæta inn á hann.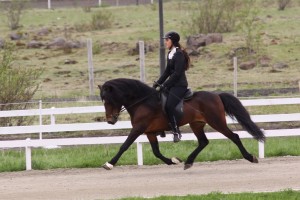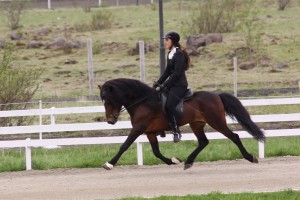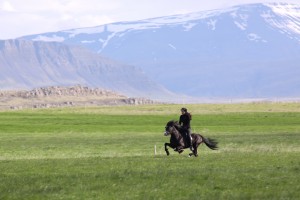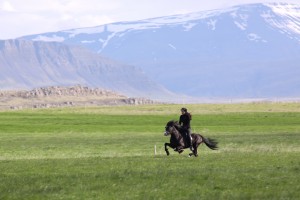 Síðan í byrjun apríl hefur ung stúlka frá Svíþjóð, Julia Katz verið hjá okkur að temja og keppa með vaxandi árangri. Meðal annars tók hún þátt í fjórgangi á Gullmótinu á Asa og stóð sig mjög vel.
//////
Breeding assessments are over as well as picks for Fjordungsmot and WM. One of our horses, Abraham son of Audna and Vilmundur frá Feti was judged. He recieved 8.43 for conformation, 8.08 for rideability, 8.22 total. Notable marks were 9 for back, 9.5 for hooves, 8 for tolt, and 8.5 for pace, spirit and form under rider. We will soon find out where he will be this summer.
We decided not to take Alexander for assessment this spring. He is 4 years old from Audna and Kvistur frá Skagaströnd. He has good trades and a good aim, and looks like he will be not be the worst of the brothers. He is currently at home with mares.
Jakob and Alur participated in the sporting events. They won theT2 and came third in five gait at Reykjavíkurmeistaramót. At Sorli's sporting match they won both events, with 7.90 in five gait and 8.54 in T2. They then got a ticket to Berlin for the WM selection and won the Gold match.
Audur is in the fields at home attending mares. He is still able to take more.
Since the beginning of April a young girl from Sweden, Julia Katz, has been staying with us training and competing with improving results. Among other things she participated in the four gait at the Gullmót and did very well.