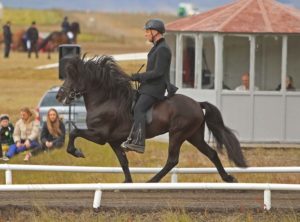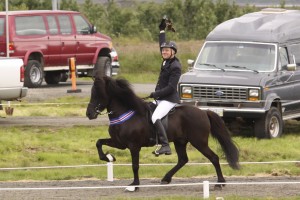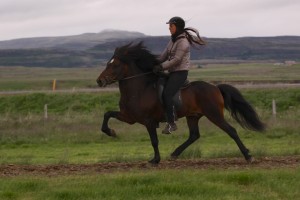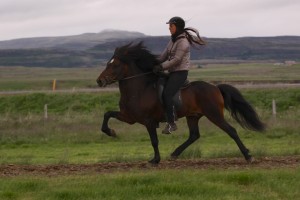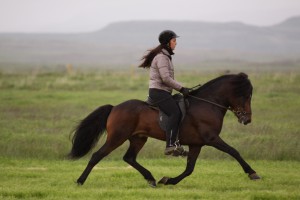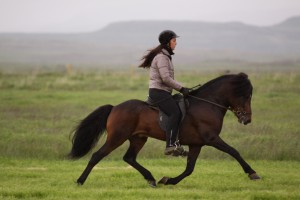 Það er búið að vera mikið að gerast í mótahaldi á Vesturlandi undanfarið. Fjórðungsmót og Íslandsmót sitt hvora helgina í byrjun júlí. Við áttum einn kynbótahest á fjórðungsmótinu, Abraham 5 vetra Vilmundarson. Hæfileikaeinkunn hans hækkaði um tvær kommur, úr 8,11 í 8,13, 8,24 út og lenti í öðru sæti. Strax eftir mót kom í ljós að hann var stokkbólginn á framfæti og við nánari rannsókn kom í ljós mikil tognun í kjúkulið og sprunga í kjúkubeini. Það er því ljóst að hann sinnir ekki hryssum í sumar. Batahorfur eru þó góðar.
Asi keppti í b flokki stóðhesta, knapi var hún Julia Katz, tamningakonan okkar og þau enduðu í þriðja sæti. Góður árangur það hjá 19 ára knapa.
Íslandsmótið var haldið í Borgarnesi. Jakob og Alur endurtóku leikinn frá í fyrra og sigruðu bæði slaktaumatölt með 9,04 og fimmgang með 8,19 og þetta var gott veganesti fyrir heimsleika í Berlin.
Auður er í túninu heima og sinnir hryssum. Það er búið að sóna einu sinni frá honum og útkoman er mjög góð, stöðugt bætast við nýjar hryssur. Næst verður sónað í lok mánaðarins.
Alexander er í Efra Nesi með hryssuhóp, hann tekur vel á móti nýjum hryssum.
//////
A lot has been happening with matches in West Iceland recently. Quarters and Islandsmot two weekends in the start of July. We had one breeding stallion in the quarters, Abraham 5 years of Vilmundur. He improved in talents, went from 8.11 to 8.13, for a total of 8.24 and came in second place. Right after the match we found out that he was badly swollen on a front leg, further examination revealed a bad sprain in the joint and a crack in the bone. He will therefore not be tending mares this summer, but he is expected to make a full recovery.
Asi competed in B class stallioins, our tamer Julia Katz was rider and they came in third place. A good result from a 19 year old rider.
Islandsmot was held in Borgarnes. Jakob and Alur made a repeat performance from last year and won both loose rein tölt with 9.04 and five-gait with 8.19.
Audur is in the fields at home tending to mares. One mare of his has had sonar and the outlook is good, new mares are coming in constantly. Next sonar is at the end of the month. Alexander is in Efra-Nes with a group of mares, and eagerly welcomes new mares.