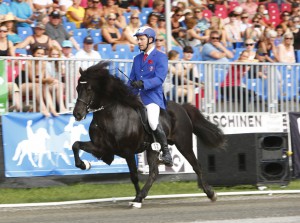 Nú er árið 2013 senn á enda og vert að líta yfir farinn veg.
Í fyrsta sinn áttum við hest á heimsmeistaramóti. Alur fór út til Berlínar ásamt knapa sínum, Jakob Sigurðssyni, en þeir urðu tvöfaldir Íslandsmeistarar tveim vikum áður. Þeir stóðu sig frábærlega í forkeppninni, fyrsta sæti í T2 og þriðja í fimmgangi. Þótt úrslitin hafi ekki farið eftir björtustu vonum erum við mjög sátt, og sannfærð um að Alur eigi eftir að koma fram á fleiri mótum á næstu árum. Hann dvelur nú í góðu yfirlæti í Danmörku.
Abraham Vilmundarson var sýndur í 5 vetra flokki stóðhesta og lenti í öðru sæti. Daginn eftir mótið kom í ljós að hann var mikið bólginn á framfæti. Á röntgenmynd kom í ljós sprunga í kjúkubeini sem leiddi til þess að Abraham eyddi sumrinu í sjúkrastíu. Hann var síðan járnaður í byrjun nóvember eftir að dýralæknar höfðu gefið grænt ljós og hefur verið í léttu trimmi síðan.
Auður sinnti hryssum hér heima í allt sumar. Er nú kominn á járn og notaður spari.
Litli bróðirinn Alexander Kvistsson var seldur til Þýskalands í haust.
Síðan í byrjun september hafa þær Julia frá Svíþjóð  og Lea  frá Þýskalandi verið við tamningar hér. Hefur verið farið yfir öll tryppi á fjórða vetri og eldri. Þar á meðal er ýmislegt spennandi, t.d. mjög efnilegar hryssur undar Al, Asa, Bjarma, Leiftra og Hrannari frá Þorlákshöfn að ógleymdri Auðnudótturinni undan Kappa frá Kommu.
Leiftraafkvæmi eru að koma sérlega skemmtilega út, viljug og töltgeng.
Að endingu viljum við óska öllum þeim sem við áttum samskipti við á árinu, gleðilegs nýjárs.
//////
Now that 2013 is at an end it's time to look at what's passed in the year.
We had a horse at the World Championship for the first time. Alur went to Berlin with his rider Jakob Sigurdsson, but they became double Iceland champions two weeks before. They did very well in the primaries, first place in T2 and third in five-gait. Even though the results weren't up to our highest expectations we are very pleased, and convinced Alur will turn up for more matches in the coming years. He is currently relaxing in Denmark.
Abraham of Vilmundur was showed in the 5 year stallions category and came in second place. The day after the match it was found he had a bad swelling on a front leg. X-ray showed a crack in a bone which caused Abraham to spend the summer on a sickbed. He was shoed at the start of November after veterinarians gave the green light, and has been doing some light exercise ever since.
Audur tended to mares at home all summer. He is now shoed and used sparingly.
The little brother, Alexander of Kvistur was sold to Germany this fall.
Since the start of September, Julia from Sweden and Lea from Germany have been taming here. They've gone over all horses 4 years and older. A lot of them were very exciding, e.g. very promising mares from Alur, Asi, Bjarmi, Leiftri, and Hrannar from Thorlakshofn, and the daughter of Audna and Kappi from Komma.
The offspring of Leiftri are lookin very fun, with good spirit and tolt.
Finally, we wish all we were in contact with in the year a happy new year.